Bring summer sunshine indoors with these too-cool DIY faux succulent planter projects. It's made in the shade décor that will heat up your summer surroundings. Faux fabulous or natural beauty, you don't need a decorator to transform your home humdrum into an ideal summer sanctuary. These projects are perfect for creating succulent terrarium centerpieces for backyard barbecues or transforming your reading room into a reading ranch using old hardcover books as planters. You can also bring that rugged desert beauty to the walls with a no-maintenance vertical garden. 
No power tools necessary! Replicate these planter project ideas or add your own variations to these easy DIY craft projects using Aleene's glues:
Transform simple rectangular glass containers into desert dreams with a little glue and custom stains. These succulent and cactus hard-to-kill and quick-to-impress terrariums make incredible accent or centerpieces. Worried about your black thumb? Faux-getta-bout-it! Faux succulent and cactus gardens are great alternatives to their prickly siblings.

Not much of a rustic desert flower? Add a little pop to your succulent craftiness. Instead of a stain, opt for chalk paint or spray paint for painless pizzazz. Shine in a snap with a spray gloss sealer.
Want texture and pattern to frame your succulent garden? Summer sprays are not just for tans. Wrap the balsam frame with your favorite fabric using sprayable fabric glue. Or, add beach beauty with colored sand. All you need is a foam brush and glue. 
What you'll need:
Aleene's Glass & Bead Adhesive 
Square glass vases 
Ruler 
Balsa wood and wood glue 
Wood stain
Hobby knife & cutting mat 
Terrarium filler (rocks, moss, dirt, etc.) 
Cactus or succulent plants (Faux is so okay!)
Transform old books into the talk of the town. Even the tiniest books can be a great opportunity to give a spectacular presentation to the popular small succulents that are readily available. With a broad variety of captivating geometrical patterns, a sampling of succulents adds a low maintenance, fun design element to your tabletop. The open cover can keep its bookish charm or become an additional creative canvas.
What you'll need:
Old hardcover book (try your local thrift store)

Ruler

Box cutter

Pencil

Paintbrush

Flower foam

Succulents (real or faux)

Plastic (if using real succulents)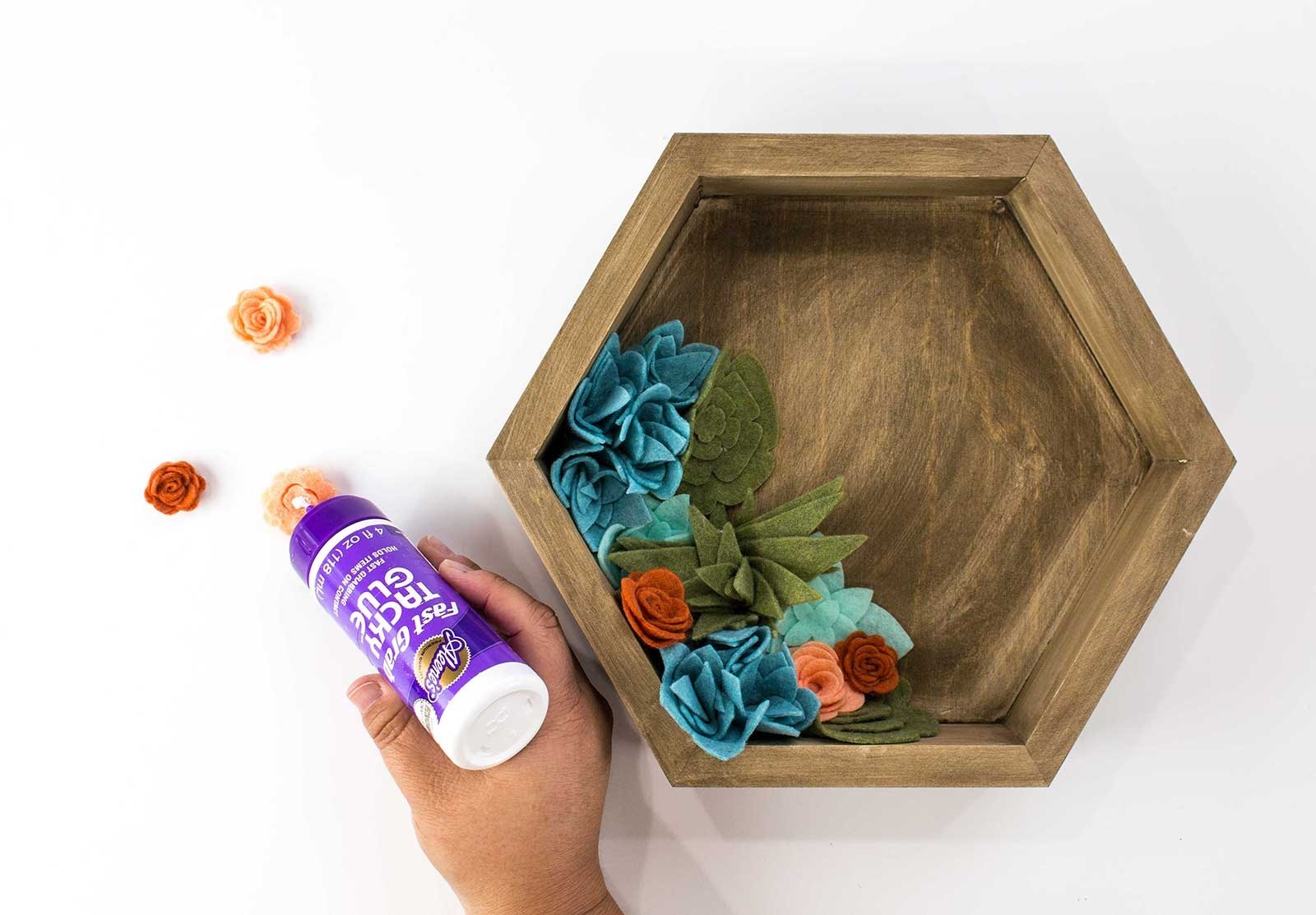 Prepare your shadowbox to fit your décor, then craft your way to felt fabulousness. It is a no-water succulent garden that will elevate your summer fun. This is a great project that can vary from super chic to an easy summer project for the kids. The felt succulents and flowers can be easily cut for varying skill levels and affixed with glue dots.

Painting in backdrops or affixing butterflies makes simple projects low-mess and boundlessly imaginative. Have younger kids use a glue stick to put their favorite characters or images in the background! 
What you'll need:
Aleene's Fast Grab Tacky Glue 

Scissors 

Assorted felt colors 

Wood shadowbox 

Moss (optional) 
These five bloggers created projects that knock DIY out of the park, including a DIY Faux Succulent Wall Art project that delightfully frames your colorful creativity. Seriously, these are amazing projects that are all just glued together. Personalize your home décor to change the everyday into a signature look that is sure to make their eyes pop.