Sure, it's easy to go out and buy a set of ornaments for your Christmas tree, but where's the excitement in that?! Making your own is so much more fun, it's usually cheaper, and the perfect way to guarantee a truly original tree. Here are 10 fun Christmas ornaments made with Aleene's glues that we think the whole fam will love to DIY this holiday season. 
Bring the joy of making a snowman indoors with these adorable Mini Snowman Light Ornaments created with Aleene's True Snow. All of the fun without the chill factor!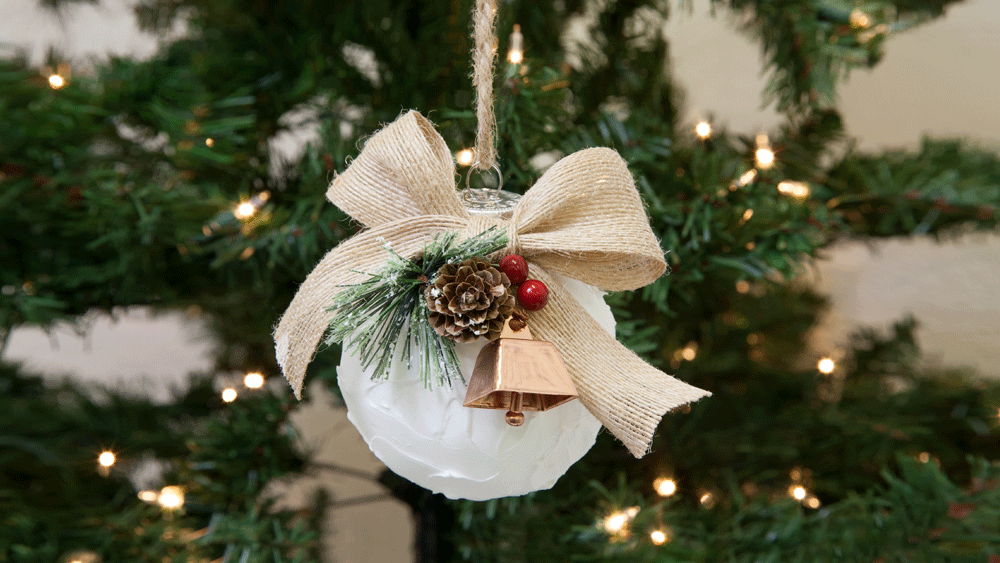 The weather outside might be frightful, but you'll be inside feeling delightful with these DIY Snowball Ornaments that look like the real thing, thanks to Aleene's True Snow.
Popsicle Stick Tree Ornaments are a fun holiday craft for kids and so easy to make! Turn popsicle sticks into Christmas trees with Original Tacky Glue and "pine" pipe cleaners.
Who doesn't love the smell of Christmas?! And by the smell of Christmas we mean cinnamon, spice and everything nice! These Cinnamon Stick Star Ornaments are super easy to make and a great cheap Christmas ornament idea that still looks sophisticated. Bring it all together with Tacky Glue.
Speaking of cinnamon, these Cinnamon Dough Ornaments made with Original Tacky Glue and baking spices will have your tree smelling like those baked Christmas goodies you can't get enough of.
The pom-pom trend is still going strong, so why not pair it with glitter and pinecones for a super colorful way to make some fun Christmas ornaments? You can attach hangers to your Pinecone Ornaments for displaying on your tree or set a bunch in a bowl for a bright boho centerpiece.
If color and sparkle are two things you can't get enough of, then these Sequin Sparkle Letters are another cheap Christmas ornament idea you'll love. Use Tacky Glue and basic craft supplies like buttons, felt and sequins to create your favorite holiday word.
Making your own dough is super easy and provides endless opportunities for ornament creativity! Check out this Tacky Dough Ornament Tutorial for some fun, trendy ornament ideas.
Take some of that Tacky Dough you made from the project above and try making these Mexican Sweet Bread Ornaments that definitely look good enough to eat. You might need to take a break and go get the real deal for a snack.
You didn't think we would forget DIY Glitter Ornaments did you? Here are 3 Easy Glitter Ornament Techniques using Aleene's Glitter Coat Adhesive that'll give your tree a super sparkly makeover this Christmas.